Meet Our Donors
We thank all our planned-gift donors for their generous support. Here are some of their stories.
Judy Strong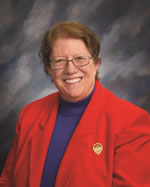 An active and dedicated Soroptimist, Judith Ann Strong, Ph.D, served the federation board of directors from 2008-2010. She was a member of SI/Moorhead, MN, in North Central Region.
Understanding the importance of supporting SIA's federation programs, Judy was a generous supporter, reaching the Ambassador level of the Laurel Society. Wanting to ensure that Soroptimist's mission continues into the future, she became a Laurel Legacy member in March 2010. At that time, Judy expressed the magnitude of our mission, "We work to meet the needs of women and girls. ... We have done much, but there are so many needs, so much more to do, especially for those women who were not as fortunate or blessed as I am to have lived well in one of the richest countries in the world. There is much more to do—we must go on—we must continue our good work."
SIA is most grateful for Judy's service and dedication as a Soroptimist. She will be missed.
Alice Wells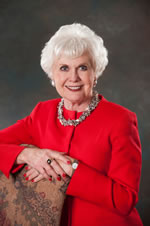 Having recently been in India and visited the memorial to Ghandi, I was so struck by his commitment to service and giving back to his country. He said, "The best way to find yourself is to lose yourself in the service of others." What better way to do that than through the service that we do in Soroptimist.
As a Soroptimist, I feel that one of the greatest gifts I have received has been my membership in this very international organization. I shall be forever grateful to the members of SI of Camelback in Phoenix, Arizona for chartering my club, SI of the Kachinas. That wonderful gift of membership has opened so many doors and provided more opportunities than I can ever count.
I am committed to giving back to Soroptimist through the monthly giving program for the Laurel Society. In addition, I wanted to leave a small legacy to Soroptimist that is part of our estate planning. Our trust attorney helped us set this up with our living trust documents and it was very easy to do. Giving back to Soroptimist is just a very small way that I can repay Soroptimist for all that I have been given. The more of us who can do this, the greater the legacy that Soroptimist can have to benefit the lives of women and girls worldwide! Every donation and legacy commitment makes a difference!
Gaye Litka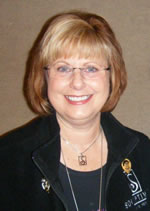 One of my own personal highlights in attending my region's annual conference is witnessing the awarding of the Live Your Dream Award to our region's recipient. Each year I am humbled by the stories of each of these women who has overcome tremendous obstacles--who, through sheer determination and perseverance, found strength and courage to change the course of her life.
As the signature project of Soroptimist, my dream is that the Live Your Dream Award will be around for a long time--because there are many women who need and deserve our help.
For this reason, I recently became a member of the Laurel Legacy. All I had to do to become a member was to complete the Laurel Legacy Enrollment Form and return it to headquarters letting them know that I have made arrangements in my estate planning for Soroptimist International of the Americas to receive a future gift. It was easy to do; and I am comforted in knowing that my gift will help to guarantee that these projects will continue to benefit women who so desperately need our help.
Paula Voerding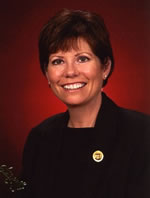 When my husband and I established our trust earlier this year, it seemed natural for me to include a gift to Soroptimist through the Laurel Legacy giving program. As a member of Soroptimist International of Cody, Wyoming for 22 years and a Past Governor of Rocky Mountain Region, the organization has been a big part of my life. Soroptimist's mission of improving the lives of women and girls fits so perfectly with my personal philosophy that it seems entirely appropriate that a part of my legacy will help guarantee the continuation of such important programs as the Live Your Dream Award.
As we worked on our estate planning, it seemed like there were many hard decisions that had to be made, but making a long-term commitment to Soroptimist, an organization that has helped so many women in so many ways, was an easy one.